Rocky Linux is Fastest-Growing Enterprise Linux Distribution
See why Rocky Linux is the future of Enterprise Linux.
Released in June 2021, Rocky Linux is among the most frequently adopted Linux distributions now that CentOS 8 has been end-of-lifed. It is widely adopted in enterprise and High Performance Computing (HPC) environments, as well as by leading hyperscalers.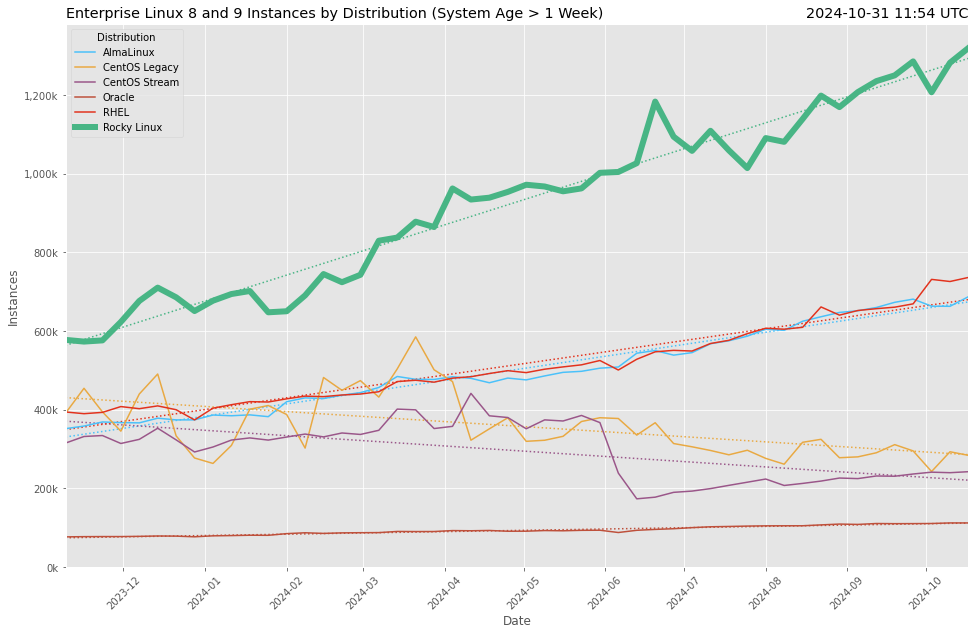 How do we track Rocky's quick uptake as an Enterprise Linux replacement for CentOS? One way is to look at the data from the Extra Packages for Enterprise Linux (EPEL) repository. The EPEL repository is maintained by the Fedora Project that provides additional packages for Enterprise Linux-flavored Linux distributions. The EPEL repository is used by a significant portion of Enterprise Linux users. The data they share are unbiased, and it is reasonable to assume approximately equal proportions of users of each Enterprise Linux distribution use the EPEL repository. Therefore, the data from EPEL is a useful—probably the best—proxy for comparing the adoption rates of Enterprise Linux distributions.
As the trusted successor to CentOS, Rocky Linux is a seamless and hassle-free solution for those looking for an alternative RHEL clone distribution. Rocky Linux's compatibility with CentOS means that Linux administrators won't have to learn an entirely new OS.
Gregory Kurtzer, the original co-founder of CentOS, built Rocky Linux as a community-based, open source, and free operating system. It was designed to deliver the value of CentOS, but with a governance structure that intentionally makes it virtually impossible for one company to take over the project. Rocky Linux is built for and by the community, with a bedrock commitment to independence, which means that users can count on it for the long run.
Rocky Linux is built using Peridot, a new open source build system designed to simplify the process of maintaining a downstream rebuild of RHEL, and to enable easy, secure customization of Rocky Linux.
The project's commitment to stability and security has also helped drive adoption. Frequent updates and patches are released to address vulnerabilities and maintain system performance, ensuring that users can rely on Rocky Linux for their critical business applications.
With its compatibility with CentOS, strong security and stability, and an active community of users and contributors, Rocky Linux is the future of Enterprise Linux. Download Rocky today and experience the benefits of Rocky Linux for yourself!